A more convenient Sound Therapy
See our Stock Take specials at the bottom of this page
Have you had any of these experiences?
How are you going with your Sound Therapy? Recently we have been in contact with many of our customers over upgrading their equipment and I have been struck by one thing. A significant number of people were unwilling to return their player for replacement until they received a new one first, because they couldn't stand to be without Sound Therapy for even one day! It's certainly good to know that for these people Sound Therapy makes such a big difference to how they feel every day.
Did you get through the healing process?
I have also spoken to some people who have had challenges with their listening such as making some progress and then having a set-back, finding the more highly filtered albums too stimulating, experiencing some symptoms they didn't understand such as temporary ear pain or dizziness. Having a conversation with a consultant is always a good way to clarify and understand what is happening and gain reassurance for the next steps forward. Your listening program includes telephone support, so please take advantage of this if you have not spoken to us before and have come to a standstill for some reason.
Has your listening lapsed?
Many people let their Sound Therapy listening lapse after a time, either because they get out of the habit or their CD or tape player breaks down and cannot be replaced. As someone who has used Sound Therapy now for over 25 years, I encourage you to give it another go. As we get older, our need for Sound Therapy increases. Just as you may have a fitness blitz every year or so, have another blitz on ear and brain fitness, and give yourself that extra energy and zing. Sometimes the 2nd or 3rd time round the results are even better!
New ultra convenient technology for Sound Therapy is here!
As one of our experienced Sound Therapy listeners who has been with our company and product for some time, we are excited to now offer you a great new advance in Sound Therapy. Now is a great time to upgrade as we have a whole new range of music programs, a portable player that is the best technology ever for Sound Therapy, plus a very attractive stock take sale.
Our new range of Sound Therapy Programs is now available with all new music on our compact and convenient MINI MX2 player. Our listeners have been delighted with this new light weight player.
"I never thought Sound Therapy could be so portable. This new player makes listening so much easier, I don't think twice about putting it on."
Here are some of the things people have said to us about the MINI MX2
"The sound quality is so clear"
"No more worrying about scratching the CDs or tapes unwinding"
"Recharging the player saves the bother of buying or changing batteries. And I love the way the whole program plays through all four albums so I don't even have to stop and change the tape of CD."
"There's no problem with movement if I wear it jogging or moving around. I'm even going to try playing tennis!"
"No more messing around with the bulky carry pouches around your waist. I wear it in the garden or working around the property, just on the lanyard tucked into my clothes and its no bother at all."
"It can even fit into an ipod case on your arm which is great for jogging or going to the gym."
"I listen to my Sound Therapy much more now because its so convenient."
Read more about the MINI MX2 2.7mb PDF

Click here to view our
Has the Analogue to Digital Problem been solved?
Yes, new advances in technology have meant that we can now provide a superior quality of sound on this remarkably compact player. We still use original analogue music and analogue Sound Therapy processing. Then in the final process the music is converted to digital sound using the highest quality digital files possible, and preserving all the essential high frequency and therapeutic harmonics. This results in a sound quality that is superior to any other current commercially produced recordings, either analogue or digital.
Which new Program should I start with?
We recommend that all listeners who have used our original programs, now start the new series with the Listening Foundation Program. This program has been made with new recording techniques that make the music easier to listen to but also more effective. Less of the hissing sound is heard because the limitations of old technology have been removed and the high frequencies are presented to the ear in a clearer form in this new series.
Are You a Media Star?
We are planning some media promotion in the next couple of months and may need people who are willing to talk about their experience on TV. If you have had good results with Sound Therapy and would like to share your story, please let us know. Our particular focus is the Family and Children's programs, though if you have benefited in other areas we will keep you on file for the future.

As one of our VIP Sound Therapy listeners we would like to offer you a special bonus if you purchase a new program on MINI MX2 before July 31st
1. Receive a $100 VIP New MINI users discount on your purchase now
2. PLUS Receive a $100 discount voucher to be used on a future purchase before Dec 31st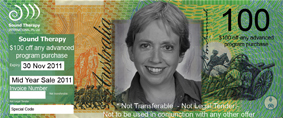 Order now and get $100 of any package in the New listers or Experienced listeners section
Use the Special Code MYS2011CT in the cart checkout to apply the discount
Here are a few of the latest programs